Life Work, Poems by Charlotte Mandel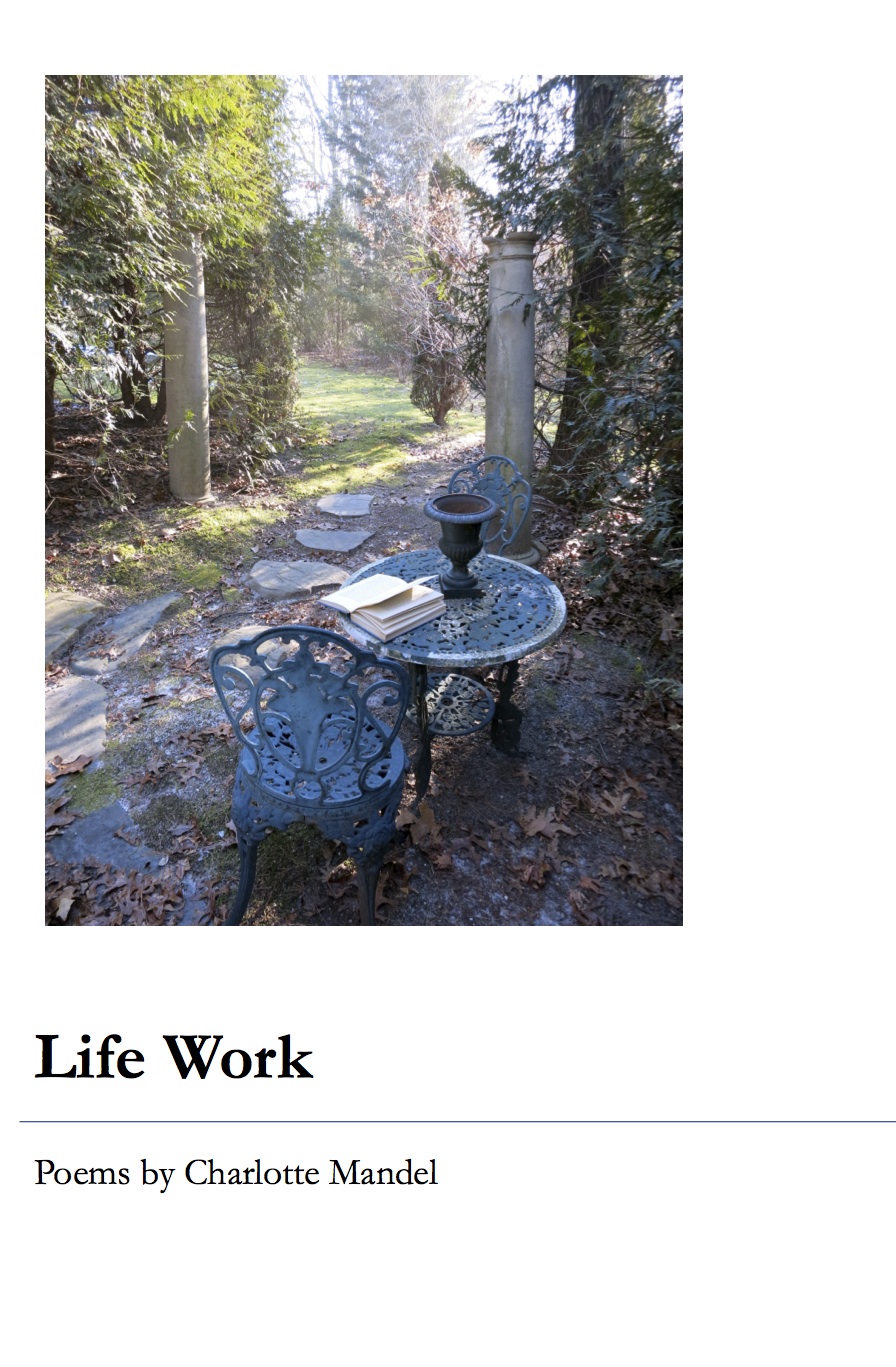 Poetry and life are interwoven in Charlotte Mandel's latest book titled Life Work. The poems explore the progress of a loving marriage into loss and transcendence, homage to artists, concern for the effects of war on humanity and nature. The collection creates a tapestry of classic and original forms with rich imagery and precision.
Sample Poems by Charlotte Mandel
"In Life Work, Charlotte Mandel reaffirms that rhythms, repetitions, and rituals sustain us. If there is a loss in that, there is also profound and quiet joy. 'Time Field,' the introductory poem, establishes the meditative quality of the book: 'we turned toward each other / like gates closing for the night.' 'Spilled White,' the concluding poem, illustrates what the connoisseur of love and loss has learned: 'Some kinds of beauty require / no labor. The kindness of a snowfall purifies my yard.'"-Kim Bridgford
"These are graceful, wise, and courageous poems. In Charlotte Mandel's Life Work, poetry is a help both during trouble and in the quiet after, helping us to figure out what we feel and challenging us to say it."-Rachel Hadas
Praise for Charlotte Mandel's previous books:
"Charlotte Mandel's innovative work in Rock Vein Sky is uncompromisingly muscular in its seeming plainness and in the hard blows it gives out. Here is a poet steeped in the clarity of memory, who dares to link public brutality with the searingly counter intuitive, who can speak of a 'vaccine to prevent / sweetness in the tastes of war,' who can invent words powerful enough to outrun the times. Rock Vein Sky is a collection as stunning as it is sobering."-Cynthia Ozick
"In Sight Lines, Charlotte Mandel presses down 'on the holding pedal of memory,' preserving for us a World War II childhood, the events of a long marriage, and domestic and foreign scenes that combine the common-place and the bizarre in crisp and lucid language.'"-Maxine Kumin
Charlotte Mandel is winner of the 2012 New Jersey Poets Prize awarded by Journal of New Jersey Poets. She has published seven previous books of poetry, the most recent ROCK VEIN SKY from Midmarch Arts Press. Other titles include two poem- novellas of feminist biblical re-vision-The Life of Mary, with foreword by Sandra M. Gilbert, and The Marriages of Jacob. Other awards include two fellowships in poetry from New Jersey State Council on the Arts; Woman of Achievement Award (Arts) from NJ Business and Professional Women; The Writer's Voice, NYC; residencies at Yaddo, including a Geraldine R. Dodge fellowship; Millay Colony; Viginia Center for the Creative Arts; Montalvo Arts Center. Her verse play "The Gardener's Wife" appears in the print and online journal Verse Wisconsin. She founded and coordinated the Eileen W. Barnes Award for older women poets and edited the anthology, Saturday's Women. As an independent scholar, she has published a series of articles on the role of cinema in the life and work of poet H.D. She recently retired from teaching poetry writing at Barnard College Center for Research on Women. Visit her at www.charlottemandel.com.
ISBN 978-1625490308, 98 pages, $18.00