Persistence, Poems by Ann Eichler Kolakowski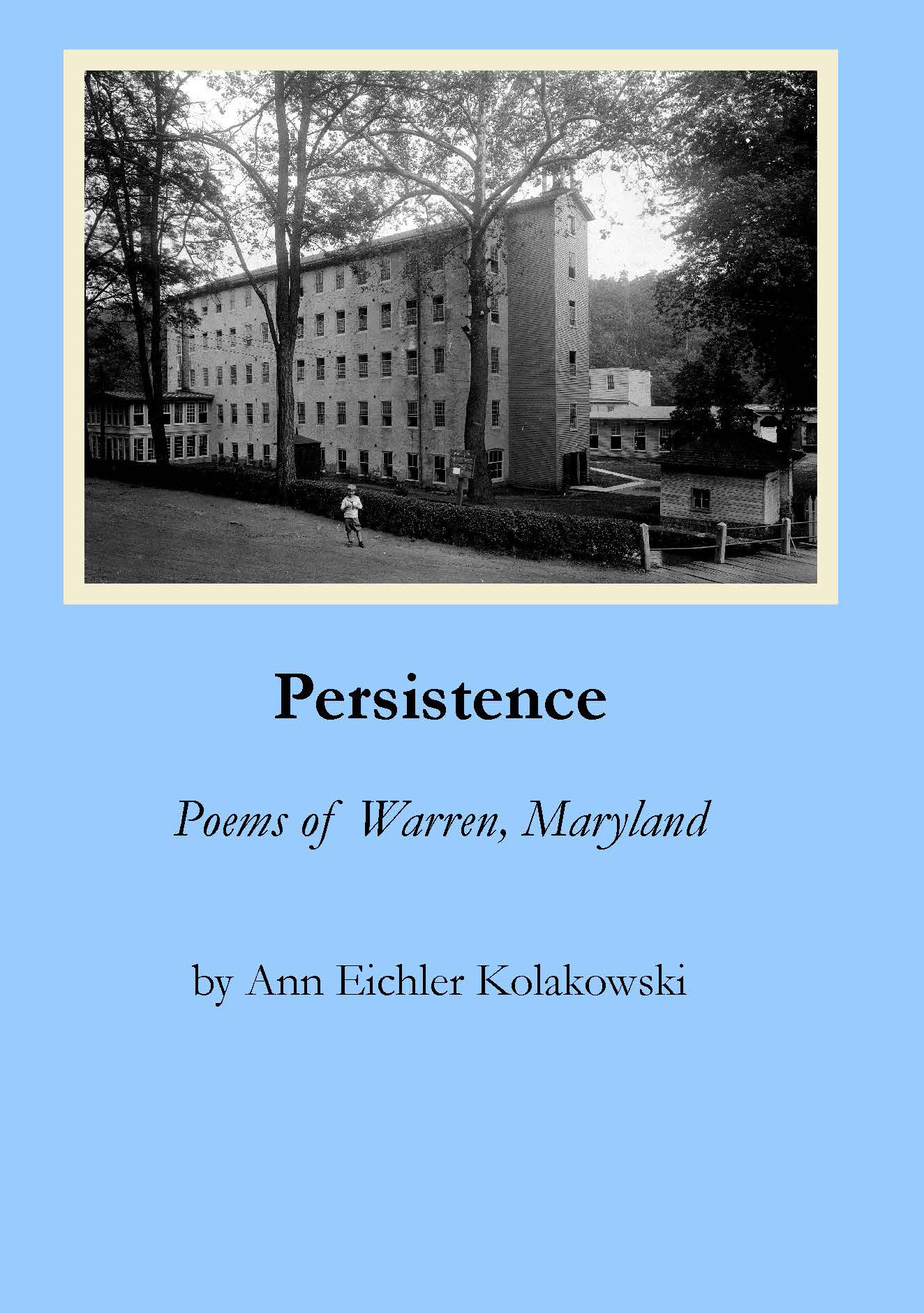 The past becomes present in Ann Eichler Kolakowski's rich collection Persistence. The community of Warren, Maryland is not simply "gone but not forgotten" here; Kolakowski's poems are an act of restoration.
Sample Poems by Ann Kolakowski
"In Persistence, Ann Eichler Kolakowski meditates on the making and unmaking of Warren, Maryland, a mill town north of Baltimore flooded in 1922 to make way for the Loch Raven Reservoir. 'There was a town here once, and then there wasn't,' writes the poet, following in the footsteps of Robert Frost and Edgar Lee Masters, as she deftly tells her story from a multiplicity of viewpoints, including her grandmother's. This is a book that celebrates incident and anecdote, striking in its simplicity and fluent craft. Kolakowski's masterful retrieval of a vanished past is full of quiet revelations about what lies at the center and periphery of seemingly ordinary lives." --Elizabeth Spires
"Whether writing in her own voice or those of Warren's vanished residents, Kolakowski reclaims the ghosts that survive in faded accounts and fading memories, including that of the poet's own grandmother who once called Warren home. Kolakowski writes, 'All rivers trace their source to clouds, the swirl/of nameless atoms heavens cannot hold'; in the same way, the poet traces a journey back, illuminating rural America with echoes of Hugo, Frost, and Masters. Resigned to history's march despite compassion for the lost, Persistence offers poems of admirable restraint and the wisdom of resistance and regret."--Ned Balbo
"Kolakowski has successfully immortalized Warren and its citizenry and given it a certain afterlife through her descriptive, lyrical, and haunting writing. 'The town came down in pieces, one by one,/and then the water rose. Warren was gone,' she writes. But is it? Climb Herring Hill and stop and listen. If you do, you can hear the voices of the townspeople of Warren in the wind, rising above the lapping water far below. Persistence can take you there."--Frederick N. Rasmussen
A graduate of the Master of Arts in Writing Program at The Johns Hopkins University, Ann Eichler Kolakowski lives in Timonium, Maryland, just a few miles south of where the town of Warren once stood. She works as a fundraiser, and her previous jobs have included stints as magazine editor, freelance writer, and assistant director of the San Antonio-based literary center, Gemini Ink. Her poetry has been nominated for a Pushcart Prize and has appeared in such publications as Little Patuxent Review, The Madison Review, Mezzo Cammin, The New Formalist, Passager, Rattle, and String Poet.
ISBN: 978-1625490780, 80 pages, $18.00