Parable, Poems by Peter Karoff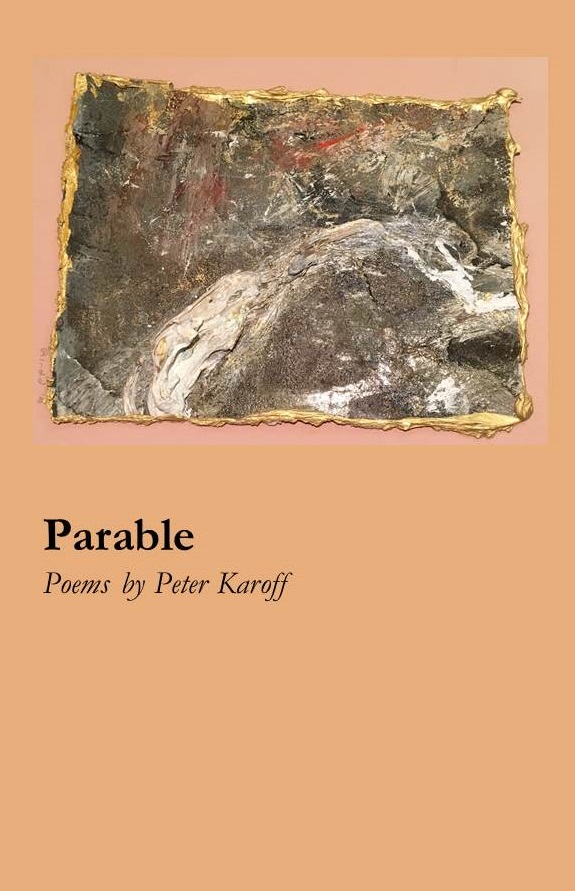 Parable is a collection of poems where the poet seeks the poem within the poem, and reflects on the lyrical, emotional, and close observation that when joined in the joy, sorrow, complexity, and success, of being, constitutes what is called presence.
"This is a first collection that represents a lifetime of writing poems. And the poems here live up to the task presented to them - they attest to a life carefully lived, to the events of the quotidian deeply witnessed, completely experienced. Sadness and elation. Loss and celebration. Poetry saturated in the amazement of breath."-Daniel Halpern
"In this generous, soulful collection Peter Karoff measures 'the chosen self,' tends the earth, and broods with memory about 'the floribunda of family life.' He is a grounded contemplative, looking with a quiet reverence and time-widened eyes on the cycles of 'birth, death, renewal, and chance' in the human and natural worlds. In both realms, this poet moves in a scrupulous 'covenant of discovery' - finding estuaries, loss, driving rains, coastal waters, a mother's long ago rose society to be searchable texts, where it is possible to notice beacons in blooms, the day's reward in a wading heron, and the evidence for hope."-Emily Hiestand
"These are poems of exceptional grace, skill, and tenderness, poems that are moving and deeply felt but without a peep of sentimentality. This book sings, it sings!"-Thomas Lux
"In an age of 25-year-old MFA poets, Peter Karoff came to poetry late, and with a wealth of lived life already behind him. But he came to it with a vengeance, and with an artist 'in his heart of hearts/yearning to be the same.' His poems, indeed, are like a rich 'oil spread on the shore of time,' arising from, and in praise of 'the great percussion of possibilities within.' They are a testament to waiting, and to the pleasures of the domestic, the familial and, at times even, the abidingly strange."-Michael Blumenthal
"Peter Karoff's poems grow large as they unfurl from the first poem honoring a rose leading to his final prose poem and the title of the book, Parable. He names himself 'a connector of dots.' In his poetry, rich with imagery, emotion, and language, he also brings together all the people and moments that have made his life 'come right,' a phrase from 'Simple Gifts,' the Shaker song at the heart of 'Parable.'"-Perie Longo
The poems of Peter Karoff (1937-2017) have been anthologized and published in various periodicals. Parable is his first book of poems. He wrote extensively on the moral and ethical dimensions of philanthropy and was author of The World We Want - New Dimensions in Philanthropy and Social Change (AltaMira Press, 2008) and Just Money - A Critique of Contemporary American Philanthropy (TPI Editions 2004), both of which included poems
He was a graduate of Brandeis University (1959), and completed an MFA in Writing from Columbia University in 1988, where he received the Benjamin Burns Poetry Prize. In 1989 Peter was made a Fellow of the MacDowell Colony in Peterborough, New Hampshire. He received an Honorary Degree, Doctor of Humane Letters, from Lesley University in 2002 and in 2006 became a Purpose Prize Fellow.
ISBN 978-1625492302, 118 pages, $19.00