Grasp and Release, Poems by Cathy Hale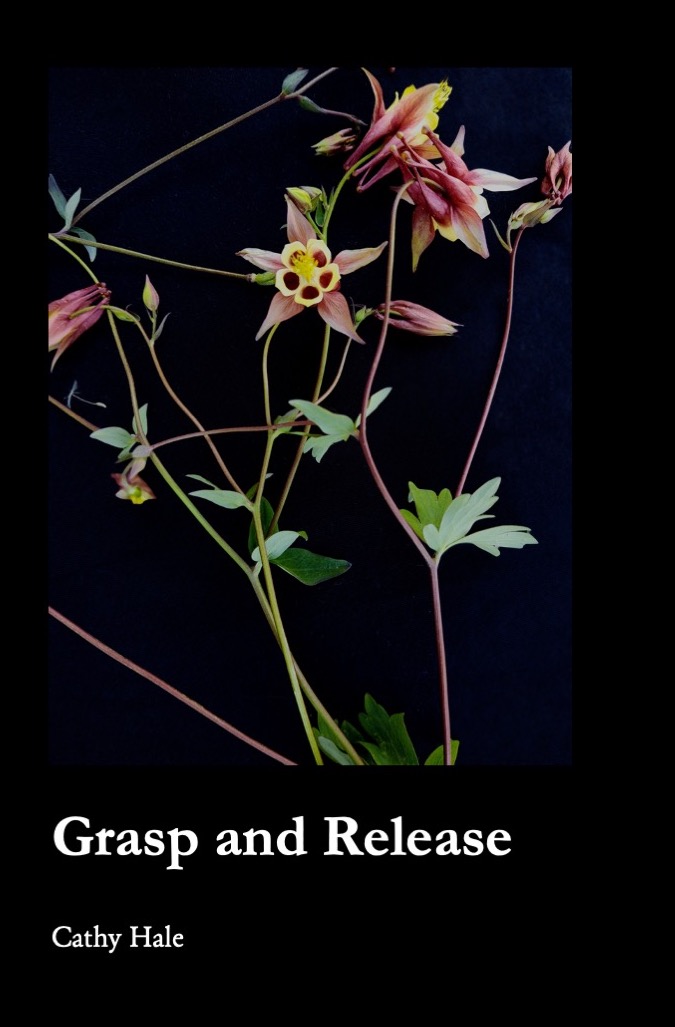 The poems of Grasp and Release grasp the world in a tender grip, and release the world into its fullness.
"'Casting shadows, their light burns and binds,' Cathy Hale writes about friends who have died. Although she lost her own brave, life- and love-affirming, twenty-year fight against cancer, her poems in Grasp and Release also 'burn and bind,' and this volume keeps them in the present tense, ready to happen over and over. Cathy's observations, affections, strong convictions, and wry humor bring her spirit to life in these lively poems that speak of nature and family, as well as the cancer treatments she underwent. In poem after luminous poem, she celebrates what the heart wants: 'time to step away / from what is automatic, find / those startling skips and leaps, slip jig, / sashay, Virginia reel untwined / and joined again, a high rope bridge / that shimmies over a sheer divide, / until you know you're still alive.'"-John Philip Drury
"There is a dictum some poets use to guide themselves when editing their poems. It advises, 'When in doubt, take it out,' with 'it' being whatever aspect of a poem is causing the poet reservations. Cathy Hale followed an opposite rule. When in doubt, she left it in. Yet her poems never feel crowded or uneven. Instead they are capacious, steady, and attentive, as when she writes of acceding to repeated roller coaster rides with her niece on a landmark birthday, watching the fair reflected in the niece's eyes and hoping she'll 'be there/to tell her this story when she's grown.' There is humor in the midst of such basic-black seriousness: In another poem Cathy recounts the tale of her father-to-be bringing the bed down when he leaps to catch her future mother, slipping as she runs from her bridegroom, laughing as the bed collapses under her. Facing enormous losses, Cathy retains her equilibrium. In the fine poems collected here, her poetry and her world are one."óBea Opengart
Cathy Lynn Hale was born on March 29, 1964, in Smyrna, Tennessee, and died on August 30, 2017, in Cincinnati. She lived with breast cancer for twenty years. After graduating from Smyrna High School (Class of 1982), she earned her B.A. at DePauw University in 1986 and an M.A. in Women's Studies at the City University of New York Grad-uate Center. She worked as an Academic Advisor at Thomas More College (1994-96) and the University of Cincinnati (1996-2005). She also taught a "Welcome to College" class at University College and worked for a vendor in Findlay Market and in the Mediterranean food store there.
ISBN 978-1625493859, 104 pages, $19.00