two for a journey, Poems by Carol Frith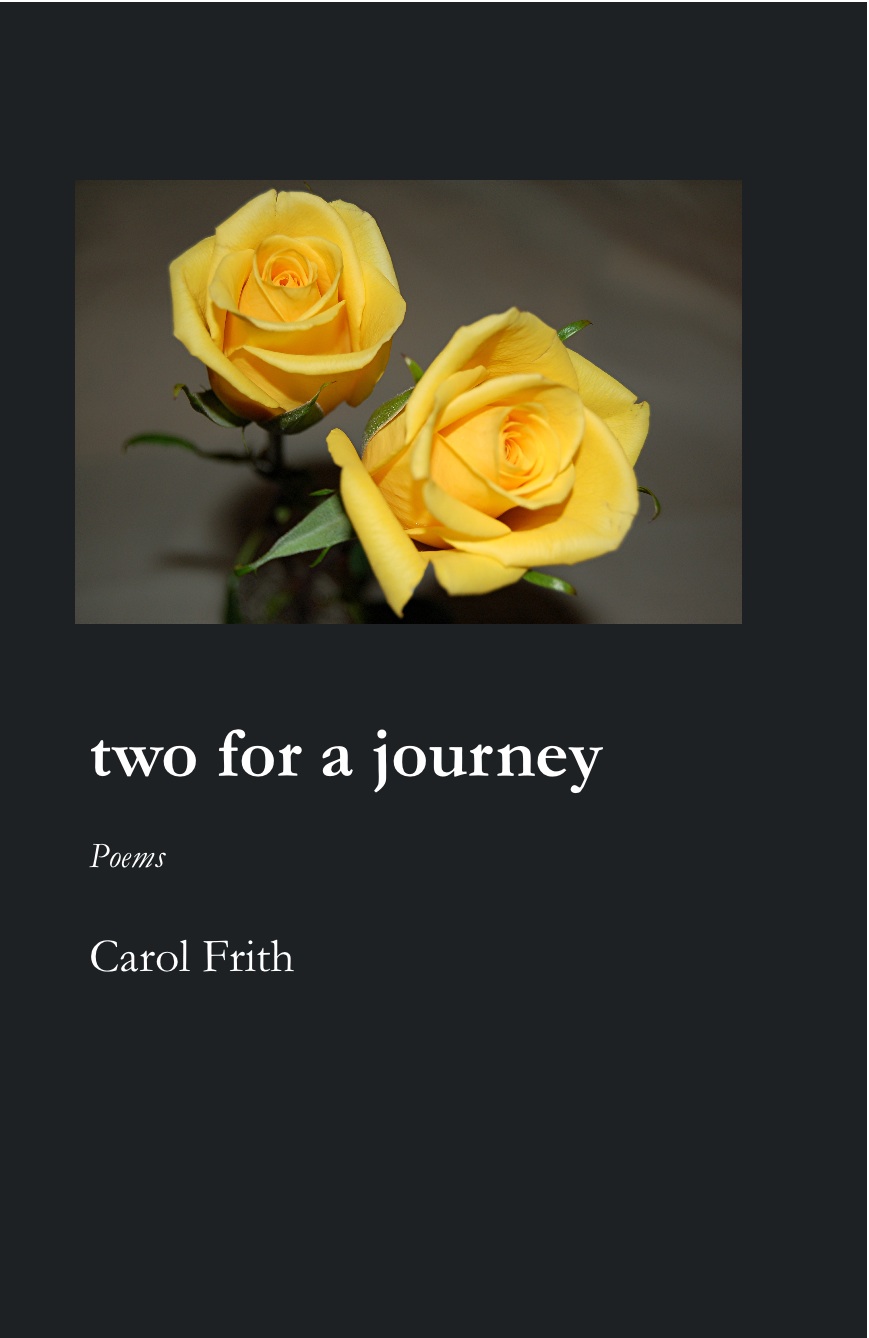 The poems of Carol Frith's two for a journey are graceful and shapely, honing a myriad of subjects into a most companionable journey.
"Unlike so many recently published, and, in my opinion, overly-touted, overly-prized and little read collections, Carol Frith's first book, two for a journey, entertains without pretension, but with meticulous language, all of the reader's senses. Using language that's extraordinarily visual, always accessible, relationships are delineated with vulnerable precision and deeply sensual resonance. Many of these poems display a masterful use of form, including the villanelle, but, primarily, the sonnet, sonnet cycles and a sonnet redoubled?'The Neighbor's Rose'?to my mind, a tour de force. Frith has created a world that carries the risks of spirit, heart and body, a familiar world that exists on the tips of our tongues but only after being named. She expresses, with lyricism, a personal sense of mystery that is moment-bound and embedded in our lives. Pursuing her vision, this poet never leaves the reader behind. Images are fresh, vivid and comprehensible. Her meditative silences, her consistent energies affect us through close-up and, often, startling metaphors. These poems depict and examine those intimacies and distances two people suffer and share. This collection is a vulnerable 'bell of sound'. Frith has something to say with poems that strike the depths of the psyche, poems that are durable. That matter."—Gayle Elen Harvey

"Carol Frith, in two for a journey, writes with a startling and remarkable imagery with levels that go deeper and deeper for a rich discovery of the use of language at its best. Her craftsmanship in free form and formal structure is equal. Her voice is singular, with strong command of language, skillful word-choice, word-texture, and substance of color to shape and present the poem. Her thought and voice-fragments often have the effect of light and shadow flickering together in mottled patterns, both pleasing and disturbing. This from 'Capriccio with Boat,' beginning: 'The sky is disarranged. We are walking/toward a cedar wrapped in rain./Here it is: a kind of gloom./' and ending: 'Your voice is soft behind me,/drifting through the artificial/light like a lost boat./' There is a continuing conversation going on in these poems, keeping the privacy, even as we listen in. (Is it a quarrel or a dance?) Her poems write truth—symbolic truth out of literal truth; truth that transcends—not into difficulty, but into an expanded appreciation for the word itself, the line itself, the image itself, the story itself. Beyond the literal, she writes with the honesty of imagination and good old poetic license, newly realized. What a weave, this manuscript. You won't need to find explanation in these poems; their multi-levels will be like listening to Scheherazade."—Joyce Odam
Carol Frith and her husband, the poet Laverne Frith, live in Sacramento, California, where they co-edit the poetry journal, Ekphrasis, which publishes poems addressing individual works of art. She received a "Special Mention" listing in the 2003 Pushcart Prize Anthology for her poem, Two for a Journey. In addition, she has two sonnets in the anthology, Sonnets: 150 Contemporary Sonnets (University of Evansville Press, 2005). Her chapbooks are Moving Like a Blue Flame (winner of the 2001 Medicinal Purposes chapbook competition), In and Out of Light (Bacchae Press, 2001), Never Enough Zeros (co-winner of the Fall 2001 Palanquin Press Chapbook Competition), and Looking for Montrose Street (finalist for the New Women's Voices Chapbook Competition, 2008, Finishing Line Press). She was the 2001 winner of the MacGuffin Poet Hunt, & a five-time finalist for the Howard Nemerov Sonnet Award sponsored currently by Measure. Her poetry has appeared in Seattle Review, POEM, Spillway, Midwest Quarterly, Chaffin Journal, U.S. 1 Worksheets, Quarter after Eight, American Poetry Journal, Measure, Studio One, Lake Effect, Sierra Nevada Review, Willow Review, Eclipse, Redivider, The Literary Review, Porcupine, Asheville Poetry Review, Clackamas, Smartish Pace, Cutbank, Sundog: the Southeast Review, Borderlands: Texas Poetry Review, Sow's Ear, Chariton Review, Cumberland Review, Valparaiso, Blue Unicorn, The Formalist, Karamu, Baltimore Review, Song of the San Joaquin, Main Street Rag, Owen Wister Review, Iris, River Oak Review, Interim, Phoebe (NY), Switched-On Gutenberg, and others.
ISBN: 978-1934999837, 96 pages, $18.00