Hitchcock's Coffin: Sonnets About Classic Films, Poems by Kim Bridgford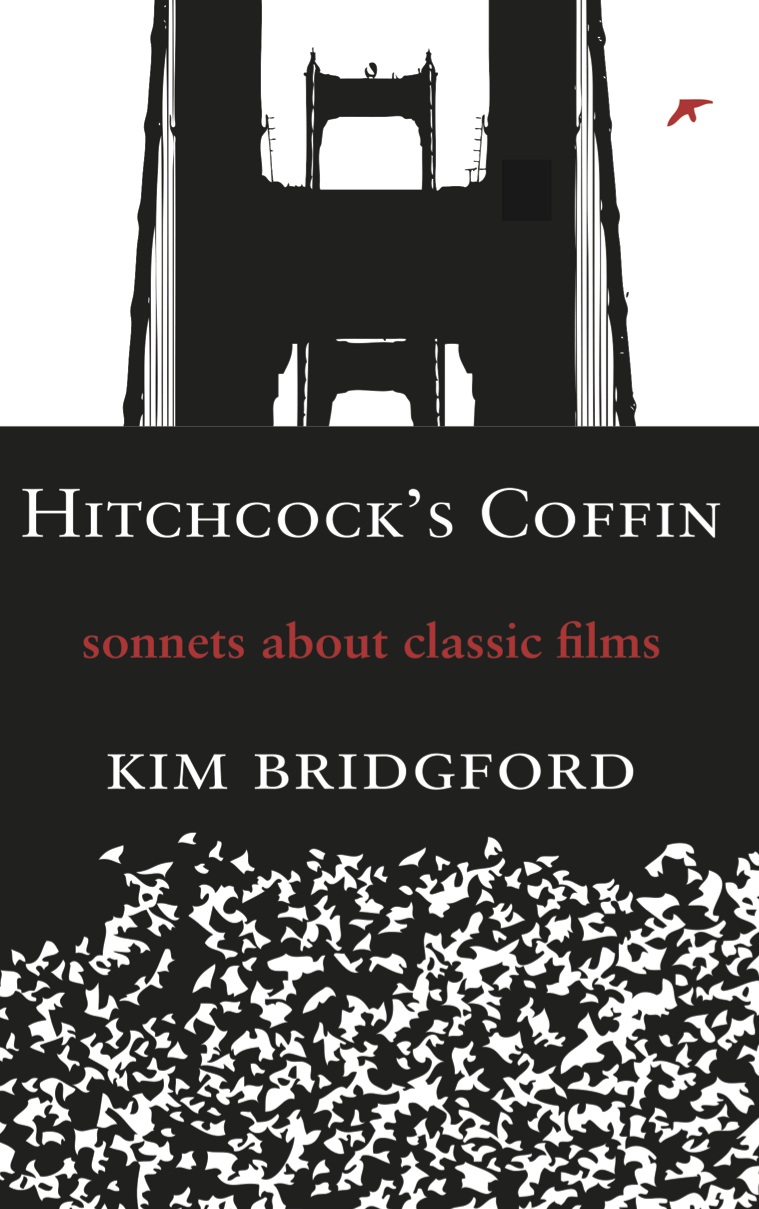 The inspired meditations on movies in Kim Bridgford's Hitchcock's Coffin are vibrant in their mix of metrical music and Hollywood gloss.
"Poet Kim Bridgford displays both wit and wisdom in Hitchcock's Coffin: Sonnets about Classic Films. Her dazzling new collection delivers sheer delight for both poetry lovers and film buffs. Bridgford's technical prowess with the sonnet is matched by her astute readings of the films. Fans of the films of Alfred Hitchcock and Billy Wilder, as well as admirers of many other classic films including The Graduate, To Kill a Mockingbird, Casablanca, and Midnight Cowboy, will find her book provides the pleasures of a poetry festival and a film festival in one elegant volume." --Dolores Hayden
"They say marriages in Hollywood don't last, but Kim Bridgford's marriage of the sonnet to the motion picture is an inspired union. As a form which was invented to move from conflict and mystery to resolution, the sonnet is the perfect vehicle for interpreting Hollywood's classic movies. But the sonnet can also deliver larger human truths, and Bridgford fulfills this capacity repeatedly, as she captures the complexities of an era with the poem,'Wilder and Freud' or with these closing lines from 'The Graduate'—'This is the life suburbia has brought her,/ And then her daughter, and her daughter's daughter;' or the curiously tender opening comment about Alfred Hitchcock in 'Hidden,'—'He hid himself in order to be found.' With this irresistible collection, Kim Bridgford has delightfully and skillfully demonstrated that the sonnet lover and the film historian make a genuinely happy couple."--Leslie Monsour
Kim Bridgford is the director of the West Chester University Poetry Center and the West Chester University Poetry Conference. She is the author of four books of poetry: Undone (David Robert Books, 2003), nominated for the Pulitzer Prize; Instead of Maps (David Robert Books, 2005), nominated for the Poets' Prize; In the Extreme: Sonnets about World Records (Story Line Press, 2007), winner of the Donald Justice Prize; and Take-Out: Sonnets About Fortune Cookies (David Robert Books, 2010).
ISBN: 978-1936370467, 80 pages