Diminished Fifth, Poems by Jeffrey Bean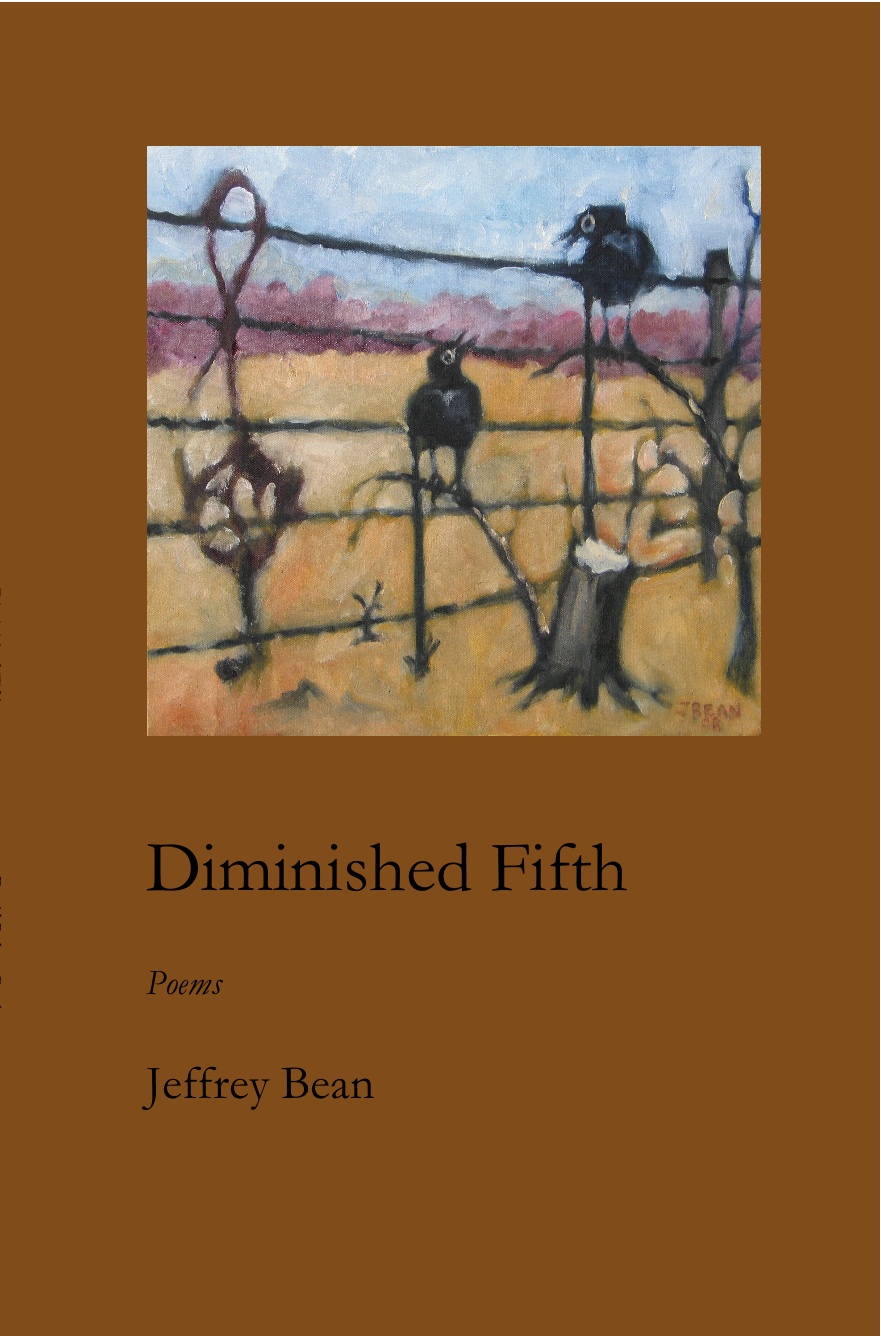 In one poem of Diminished Fifth, Jeffrey Bean chants a song about songs: "The song for hiding in the hay./The song for crunching locust shells./The song for snot. /The song for nests./The rat song./The shrimp and bananas song." He suggests almost anything can be a song, an occasion for the voice raised in celebration or mourning, and he is right. Diminished Fifth is a record of fearless songs of praise and lament of our times.
"The tendency of young poets is prolixity, but no poem in Diminished Fifth is longer than it needs to be. In spite of its brevity, Jeffrey Bean's work overflows with an ebullient wit, a playful mix of tenderness and humor: 'I said to the wheat, O wheat, / family dog of crops,/ curl in my lap and sleep awhile.' Bean evokes Thelonious Monk, Reverend Dimmesdale, boxing announcer Michael Buffer, Gary Indiana, Mt. Hood, the 'flamingo light of roller rinks,' Santa Clauses ringing bells in front of Wal-Mart, chainsaws, grief—all in one poem. He discovers and writes out of what one might call (though many would consider it an oxymoron) Midwestern Soul. Unlike previous poets, who have found in the middle of our country only spiritual and cultural vacuity, when Bean dreams out the window in grade school it is not of escape from the landscape—'Hi horsey. Hi dead corn./ I would rush crunching out there and breathe you.' This is a book of countless pleasures, from a gifted, large-spirited, hopeful new voice."—Jeffrey Skinner
"This excellent book doesn't contain a single predictable move or obvious line. Jeffrey Bean's imagery is physical and exact, yet gently surreal; accessible, yet steeped in the strangeness of being. Sometimes spare, sometimes exuberant and comprehensive as Whitman, the good-hearted poems in Diminished Fifth take us to important places."—Pamela Alexander
"Bean's vibrant lyrics are sometimes sweet and sometimes acidic, but they are always awestruck by and deeply attuned to the strange music they discover everywhere they turn: in an anxious adolescent dance with a partner suffering from 'Pepsi breath,' in the way the sun 'crashes softly on the street,' in the sound of a passing train saying, 'with whom, with whom, with whom, with whom.' It's a tremendous pleasure to find such unabashed playfulness melded with such confident seriousness in the work of a new poet. 'Why can't I lie still and not say, / stop making new names for dust?' Bean asks. The answer's in your hands."—Joel Brouwer
Jeffrey Bean was raised in Bloomington, Indiana. He holds a Bachelor of Music from Oberlin College and an MFA from the University of Alabama. Currently, he lives in Mount Pleasant, Michigan, and is an assistant professor of English at Central Michigan University. His poems have appeared in such journals as Slate.Com, Quarterly West, New Orleans Review, Salt Hill, Redivider, and Field. Diminished Fifth is his debut collection.
ISBN: 978-1934999653, 88 pages, $18.00